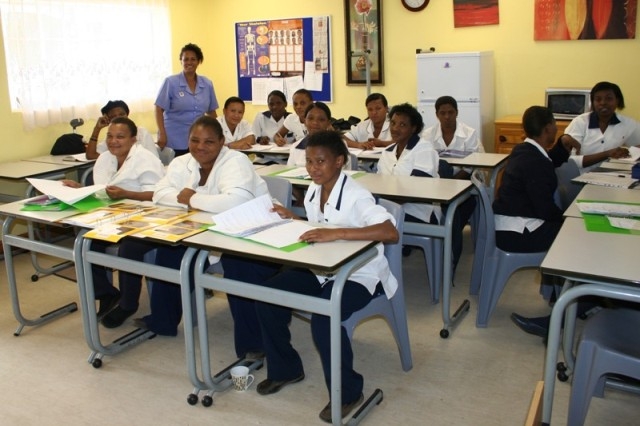 The new Resource Centre, built in 2008 by 150 Irish volunteers, has been a wonderful addition to the Missionvale Care Centre (MCC) and has allowed a variety of programs and activities to be expanded including the HIV/AIDS program, the Social Assistance Office and the Child Support and Development Program. Sister Ethel always envisioned this as God's Workshop – a building that would grow with the needs of the people of Missionvale. And that is exactly what has happened throughout its first year of operation.
HIV/AIDS Program
The Resource Centre is now the home base for the Home Based Caregivers who are managed by Sister Muriel Eskok. Each day the Caregivers go into the community to visit the homes of those most in need that are not able to make it to the clinic. The Caregivers have completed an intensive training program through the Nightingale Trust Christian Training College. This program has expanded their skills for home care nursing, basic counseling, nutrition, hygiene and a comprehensive HIV/AIDS education component.
Each day, a specialized HIV/AIDS treatment program is run within the Resource Centre as well. This program is run by one of our Caregivers. It uses cutting edge therapy to stimulate and help the participant with the restoration of blood cells.
Some of the rooms of the Resource Centre are used for basic treatment that focuses on alleviating the pain symptoms caused by HIV/AIDS. On a regular basis a reflexology therapist visits the Care Centre and provides therapy for some of the people.
Missionvale Care Center is in discussion with an organization about becoming an Anti-Retroviral therapy site. This treatment would be a very major step in helping extend the hope and lifespan of people currently infected with HIV/AIDS. It is possible to extend a mother's life for an additional 15 years of which she will be able to nurture and provide for her children. There is great likelihood that without ARVs this woman would die and her children would be orphaned (this is the current situation the Care Centre responds to everyday).
Social Assistance Office
The Social Assistance Office is an invaluable part of the MCC. The two auxiliary social workers at MCC, are very thankful for the new Resource Centre. They are now able to work with the people in a comfortable, semi-private area.
Each day, they help anywhere from 45 to a couple hundred people. The goal is to make sure that everyone within Missionvale that is eligible to receive a government assistance grant has the help they need to do so. You will see people sitting comfortably in the reception area awaiting their turn to help them complete an application for a grant, have a photo id created, and assist with any other required documentation.
With the addition of the new Resource Centre, it has created an opportunity to now have Home Affairs and SASSA (South African Social Services Administration) come to MCC to process required documentation and grant information rather than having to send all the people of Missionvale individually to the Home Affairs Office in the city.
Child Support and Development Program (CSDP)
The CSDP is focused on providing orphaned and vulnerable children a safe and
educational environment where they can spend their afternoons. The children are able to take part in a variety of activities including ballroom dance lessons, drumming, netball, and soccer as well as receive a nutritious snack and drink before they go home. On average, 450 children attend the program every day.
In one of the rooms of the Resource Centre, we have recently started a computer learning program that the children can take part in. Computer basics, word processing, and other educational programming are being taught to 15 children each day. The plan is to extend these computer classes to all the students at the Missionvale Care Centre Primary School.
We are currently seeking funding to start a nursery program that will take place in one of the rooms of the Resource Centre as well. Many young children, those not old enough to enter Senior Infants, have nothing to do during the day and are many times left unattended. Once funding is secured, MCC will provide a safe environment with a supervised, educational focus for these young children.