Home Based Caregivers/HIV and AIDS Unit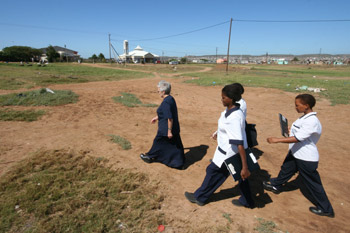 The Resource Centre is the home base for the 20 Caregivers of the Missionvale Care Centre who take the love and compassion found at the Centre into the homes of the ill and the dying. Each day the Caregivers make an average of 30 home visits to those in need. These Caregivers have been given the opportunity to attend an intensive training program. This program will expand their skills for home care nursing, basic counseling, nutrition, hygiene and a comprehensive HIV/AIDS education component. The Caregivers will receive a certificate once they complete this educational training and equip them with the confidence and knowledge to provide quality health services for the people of Missionvale. A very important part of what these Caregivers do each day is work with the family. They teach the family how to care for their sick family member. This may include teaching them how to bath the person, keep them comfortable, feed them, etc.
Another area of this unit is a specialized HIV/AIDS treatment program. This program incorporates cutting edge therapy for HIV/AIDS. Participants attend every weekday for a three-week duration. The program is to help improve their immune system by stimulating the body in various ways to help with the restoration of blood cells.
There is also a once a week HIV/AIDS support group that meets in the Community Hall to discuss, share and be there for one another. The Missionvale Care Centre wants everyone to feel they have support in this fight against HIV/AIDS. No one is in this fight alone.