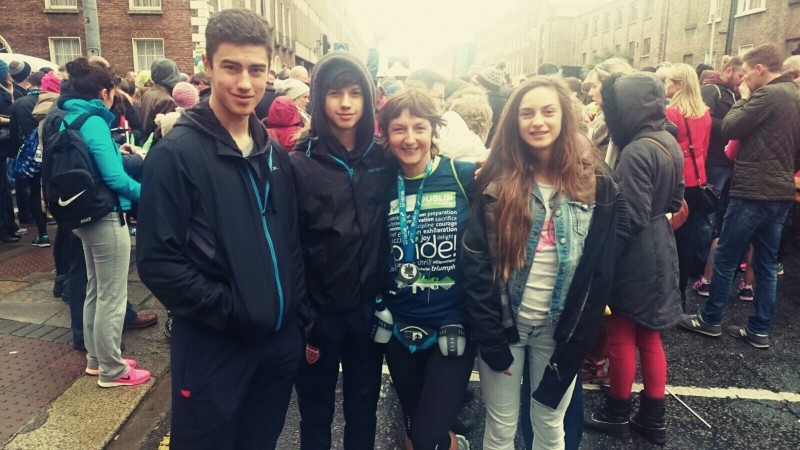 Running the Dublin Marathon for Missionvale
I've been very impressed and moved by what I've seen on DVD and heard from those who have been to Missionvale, on the work being carried out there and the very difficult lives people there are living. Last year I ran my first marathon in Dublin –something I never thought I'd be doing! I only took up running a few years ago (well into middle age!) and found it a great way of keeping fit in mind and body. Running 26.2 miles is a big ask and to go for it a second time required a bit of a motivational kick so I decided I'd ask people to sponsor me and raise money for Missionvale. When I spoke to Kieran he said that a bus to take children to Secondary school was one of their priorities – I was delighted; I believe education is the cornerstone to a better future. Four of us from Ogonnelloe ran this year, it's a great family day out but hard to meet up with each other among the thousands of runners so we didn't manage to get any group pictures. It was a great experience, all the training done it's time to go out and enjoy it; the buzz and the encouragement you get from the crowd is fantastic and really necessary for the last few tough miles! We were delighted with all the support we got and over €4000 raised for Missionvale.
Anna McElhinney
Paschal Sheedy also ran the Marathon in aid of Missionvale
When Anna spoke to me of the idea of running the marathon for Missionvale it was the inspiration I needed to run my tenth Marathon. Having very little running done in a few years it was going to take a big effort to build up the miles and as I did Missionvale and the work they do was a great motivator. To be involved in raising money to go towards purchasing a school bus to get kids to secondary school made Marathon number ten a very memorable one.